DG PHILIP CHONG MAU KIONG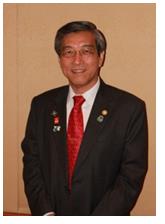 Philip was born on 10 November, 1950 and hailed from Kudat, a town in the northern part of Sabah.
He is the Founder and Managing Director of Applied Engineering (S) Sdn. Bhd., which was established in 1980 and which is the leading and reputable engineering company in Sabah, specialised in providing mechanical & electrical services to various major properties in both public and private sectors.
Philip was inducted to the Rotary Club of Likas Bay on 23rd August, 1994. During the last 20 years of his Rotary journey in providing meaningful service to the needy communities, he has served in numerous capacities for his Club and on District level, such as in all the five Avenues of Service, as Club Secretary, Vice President, President Elect, President, Club CLP Chairman, Club Service Projects Chair, Club Membership Chair, District Membership Development Chair, District Community Service Chair, Organising Chairman for RLI Part 1,2,3, Graduate and Faculty courses for Sabah, Labuan F.T. and Brunei., Facilitator for PETS & DA, Organising Chair for District Rotary Foundation Seminar for Sabah, Labuan F.T. and Brunei, Rotary Foundation Malaysia Coordinator for Sabah 2009-2011 and as District Trainer 2014-2015.
As the Community Service Director for 1996-97 and with the full support and assistance from his club members, doctors from the Queen Elizabeth Hospital and the State Health Department, Philip has initiated the formation of a Palliative Care Unit in the Queen Elizabeth Hospital in Kota Kinabalu. In 1996, he also arranged for 10 persons, comprising of doctors, nurses and volunteers from Sabah, for a one month long Intensive Palliative Care Training in Australia. This was then the first Palliative Care Unit set up in the whole of Malaysia and subsequently this unit has become the role model for similar units being set up in other States.
In 1999, Philip co-founded the Sabah Invention and Design Exhibition SINDEX and served as the Chairman of the SINDEX 2010 Main Organising Committee. With the participation of all the 12 Rotary Clubs in Sabah and Labuan F.T., SINDEX is now a major long-term joint Rotary Vocational Service project in Sabah and Labuan. The main objective of this noble SINDEX project is to inculcate and nurture innovative and creative thinking among our new generation throughout Sabah. After 16 years, the SINDEX project is still going strong and has benefited more than 4,500 teachers and 55,000 students. The project has attracted a total of over 2,500 invention entries by the students for divisional and state level invention competitions and exhibitions.
Over the years, through this SINDEX project Rotary Clubs in Sabah and Labuan have enjoyed good publicity and Media coverage, resulting in a heightened profile and good image for Rotary International. Philip envisions spreading the SINDEX program to the whole of District 3310 and for it to become a signature project for all the Rotary clubs.
Currently, Philip is an active Trustee of the Rotary Malaysia Foundation.
For his dedication, commitment and passion of his unselfish Rotary Service, Philip was awarded the RI Distinguished President Award for 2001-2002, RI Citation for Four Avenues of Service and RI Vocational Service Leadership Award 2011-2012.
As the Vice Chairman of SM Shan Tao Parents – Teachers Association in 1993-94 and Member of SM Shan Tao School Management Board from 1994-2006, Philip has also been actively involved in non-Rotary community service.
Philip is happily married to lovely wife Len Nyuk and they are blessed with 3 sons: Stanley – an Electrical Engineer, Louis – a Property Valuer and Lawrence – a Chartered Accountant. The couple is also blessed with 3 daughters-in-law and 2 grandchildren.
Philip is also a classic cars enthusiast and collector and a golfer.