DGE HENRY K H TAN
Rotary Club of Singapore West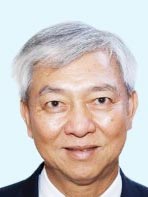 Henry K H Tan joined the Rotary Club of Singapore West in May 1987. As an active member, he held various positions such as Community Service Director, Club Secretary, Club Administration Chair and Youth Service Director. He became the Club President in 1994-95. Henry is also active in the District. In 2014, he was recognised as Outstanding Assistant Governor. In the Rotary Foundation, he is a Benefactor, Major Donor (Level 1) and a Paul Harris Society member.
Henry holds a MBA degree from the University of Strathclyde in Glasgow, UK. In 2001 he founded Alpha-Health Asia, a group of companies in medical supplies, where his is now the Managing Director of Alpha-Health (Asia) Pte Ltd. Before that, he was employed for more than 19 years by Baxter Healthcare, where he held various senior positions in the Asia healthcare business.
In 2012 Henry received The Spirit of Enterprise Award which is an annual national award conferred to deserving business entrepreneurs to honour their outstanding achievements. As President of the Association of Medical Device Industry Singapore since 2012, Henry received from the Association the Special Leadership Award for his outstanding contribution to the Industry.
In 2011 and in 2013, he was the Vice Chairman of the Foundation of Rotary Clubs (Singapore) Ltd. Under the new direction of the National Council of Social Service he was invited to be the Chairman of the newly formed Management Committee of the Rotary Family Service Centre. Under his leadership, the Rotary Family Service Centre went through a significant transformation to become a centre with well trained and highly motivated supporting staff. Currently the authorities regard the Rotary Family Service Centre as a good role model.
Henry also spent many years as an active grassroots leader. He started his career in 1978 as Secretary of the Residents Committee and became Chairman of the Residents Committee in 1980. In 2003 hewas appointed as Chairman, Management Committee of Cheng San Community Club, and Vice Chairman of the Citizen Consultative Committee. He was a Town Councillor and Chairman of the Estate Maintenance Committee at the Ang Mo Kio Town Council for many years before he stepped down.
In 2005, Henry was appointed as Justice of the Peace by the President of the Republic of Singapore. Currently he officiates solemnisation of weddings. He is a visiting Justice of Prison and a Volunteer Mediator at the Family Maintenance Court in Singapore.
In 2011 Henry received a Singapore National Day Award. He was awarded the Public Service Medal PBM (Pingat Bakti Masyarakat) by the President of the Republic of Singapore. This year, he also received the 25 Years Long Service Award from the People Association.
As a sports enthusiast, he jogs regularlyto keep fit and loves playing golf. Henry was born in Singapore on 27 July 1948 and is happily married to his wife Ellen. They have a son Hansel who married Ching Yee. Their 5-year-old daughter Suri is his lovely granddaughter.
Henry's passion is serving the community and to make the world a better place for everyone.