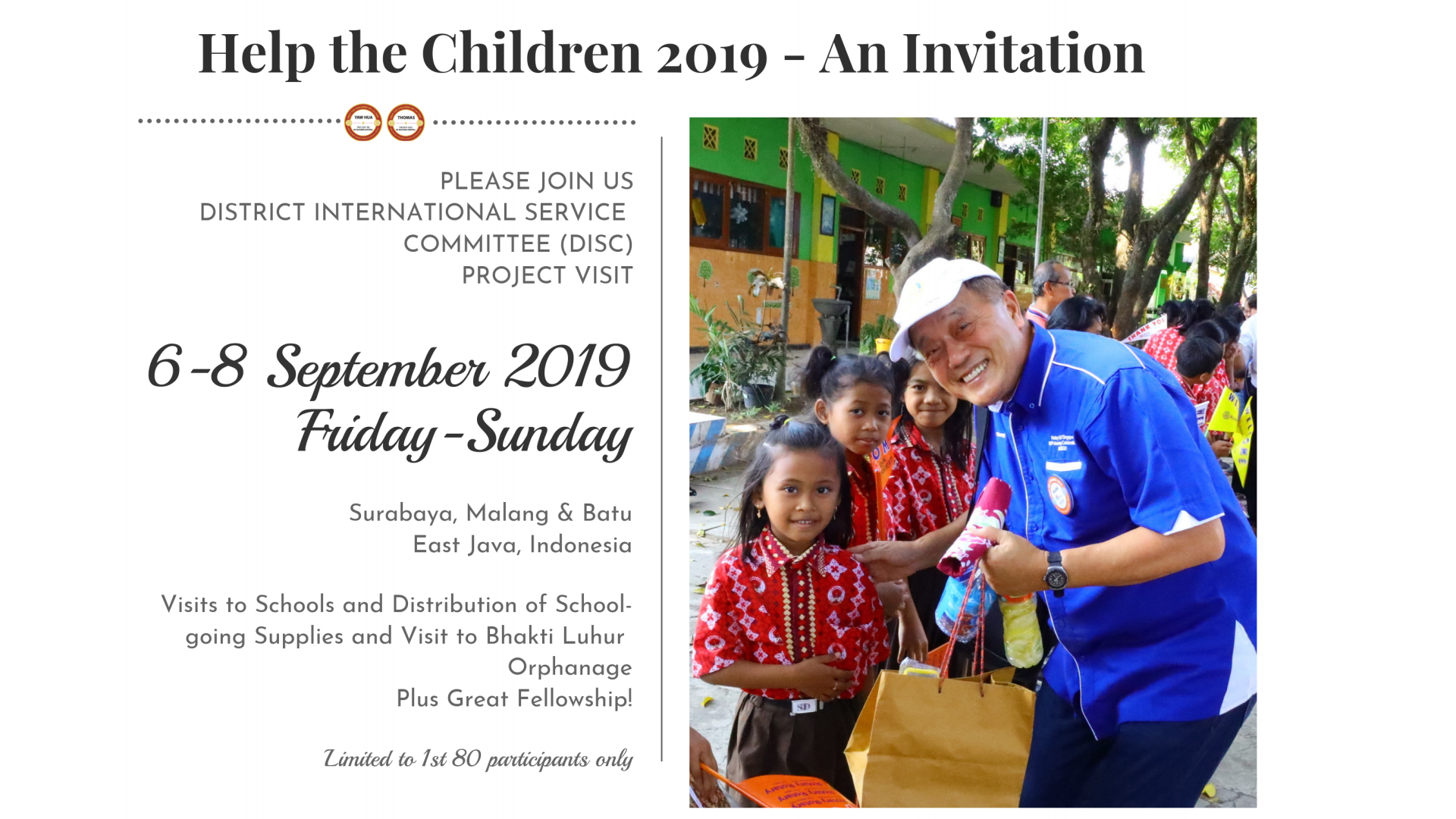 Rotary Club of Singapore will be launching its 11th year edition of the Help the Children Project 2019 from 6-8 September 2019 (Friday to Sunday) in the cities of Malang and Batu, East Java, Indonesia. Rotarians and Family Members are most welcomed.
This year's project aim to provide basic school-going necessities such as uniforms, shoes, stationery, bags and school fees for the whole academic year, for 1,302 elementary school children from 60 schools. We will also be visiting the Bhakti Luhur Orphanage in Malang, which houses over 350 children and young adults with various physical and mental disabilities. Bhakti Luhur is also the site of 2 of RC Singapore's Global Grants.
Flight details are as follows:
6 September 2018 (Friday): SIN – SUB (Surabaya) SQ 930
Depart: 0750hrs Arrival: 0905hrs
8 September 2018(Sunday): SUB – SIN MI 225
Depart: 1840hrs Arrival: 2155hrs
Kindly book your own flights and inform us of your participation via drshahul14@gmail.com
Hotel accommodation, transfers, transport and food during the trip will be arranged on your behalf. Kindly provide your full name, room preference (single/double/family) and flight details (if different from above).
Tentative Program:
6 Sept (Friday)
Arrive Juanda Airport Surabaya
Transfer to City of Batu Schools and Project Visits Welcome by Mayor of Batu
7 Sept (Saturday)
Transfer to Malang
Visit and Tour of Bhakti Luhur Orphanage
Schools and Project Visits
Welcome Dinner at Hon Member Mohan's Villa
8 Sept (Sunday)
Project Visits
Tour of Batu and Selecta Transfer to Juanda Airport Flight to Singapore
We look forward to your participation. Based on previous years' experience, we expect between 50-70 participants from outside Indonesia. This will exclude another 50-60 Rotarians and Family Members from our Partner and Sister Rotary Clubs in Surabaya, Malang and Batu. Thank you.
Project Leaders
Dr Shahul Hameed, District International Service Committee Chair
Varun Gulati (co-Leader), International Service Committee
Mamta Shahani, International Service Committee Chair (2019/2020) Hon Member Mohan Vaswani
*kindly note this year's project will be jointly organised with the
District International Service Committee (DISC)*