Dear Club Presidents 2017-18:
Declaration of District Governor-nominee Designate 2020-21
As you are aware, the 2017-18 District Nominating Committee has selected Past President Rajamohan Munisamy of Rotary Club of Pandan Valley as the best available candidate for District Governor-nominee Designate (DGND)2020-21.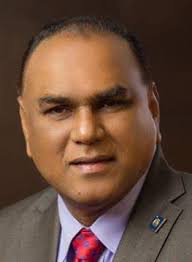 RI Bylaws 14.020.8. allows for clubs to propose challenging candidates.
14.020.8.Challenging Candidates.
Any club in the district which has been in existence for at least one year as of the beginning of that year may also propose a challenging candidate for governor-nominee provided this club has previously suggested such candidate to the nominating committee. A club in existence for less than one year as of the beginning of that year may propose a challenging candidate provided such candidate is a member of that club and the challenging candidate must have been duly suggested to the nominating committee. The name of the challenging candidate shall be submitted pursuant to a resolution by the club adopted at a regular meeting. The club must file the resolution with the governor by the date determined by the governor. Suchdate shall be not more than 14 days after publication of the announcement of theselection for governor-nominee by the governor.
At the close of the challenge deadline of 23:59 on 11 October, no club has proposed a challenging nomination.
14.020.10. Absence of Challenging Candidate.
The governor shall declare the candidate of the district nominating committee to be the governor-nominee where no such challenging nomination has been received by the established date. Such declaration shall be made to all clubs in the district within 15 days of the deadline.
Therefore, according to RI Bylaws 14.020.10., I take great pleasure in declaring Past President Rajamohan Munisamy the District Governor-nominee Designate 2020-21. Please join me in congratulating DGNDRajamohan Munisamy!
Warm regards,
ROTARY:MAKING A DIFFERENCE
Datuk Lee Chuen Wan
District Governor 2017-18
Rotary District 3310